Audiences can enjoy many great performers, musicians and actors at the Historic Palace Theater in Hilo, Hawaii.
---

CONCERTS, CONCERTS, CONCERTS!
Hawaiian Music, Jazz, Classical
The Palace Theater is proud to bring great live concerts to Hilo in our beautiful, acoustically wonderful venue.
Every year, we welcome back our annual favorites, Makana, Jake Shimabukuro and The Makaha Sons, along with other performance surprises during the year… Like our Brothers Cazimero concert!
---

SPECIAL EVENTS
Palace Theater shows The Rocky Horror Picture Show, beginning a really popular annual event on Halloween night!
Fun and mayhem abound at Rocky Horror Picture Show, shown annually on Halloween night. "Participation Kits" available for the audience complement the show in weird and wonderful ways. How many movies are you actually encouraged to throw toilet paper rolls?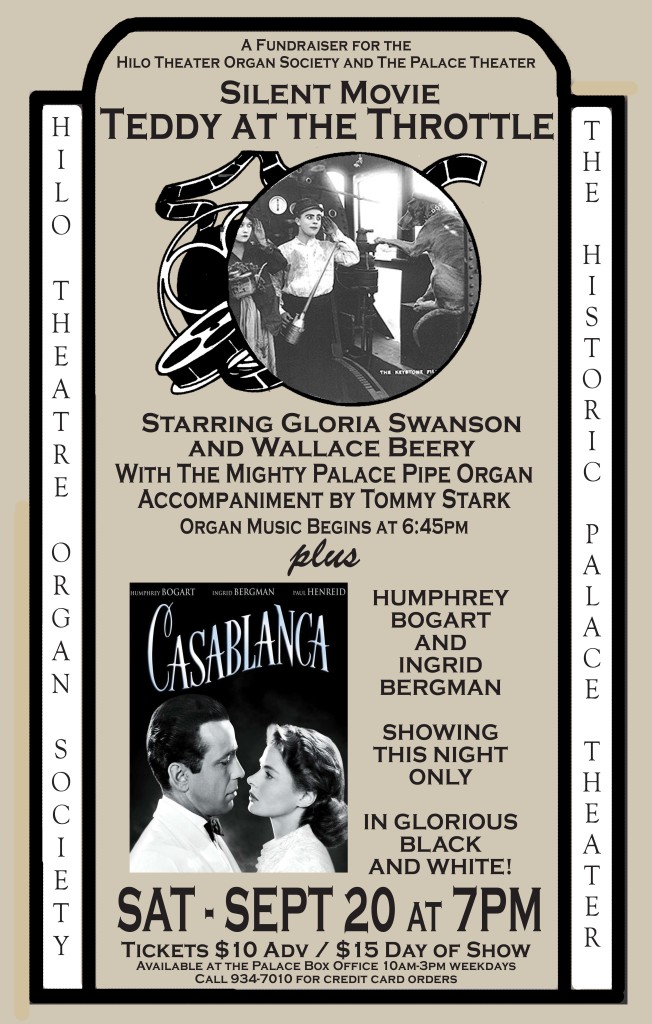 Silent Movie Nights
What could be better than watching an original Silent Movie WITH organ accompaniment on the Mighty Palace Pipe Organ? The Hilo Theatre Organ Society (some of the great, talented folks working on this pipe organ) and the Palace Theater have Silent Movie nights as Fundraisers to maintain and upgrade the organ.
Hawaii International Film Festival (HIFF)
Participating with the Honolulu based Festival, the Palace Theater has been showing great films that would not be seen here in Hilo except for this festival.   Beginning in 1999 with the grand reopening of the historic building, HIFF has been a part of our fall season of offerings.